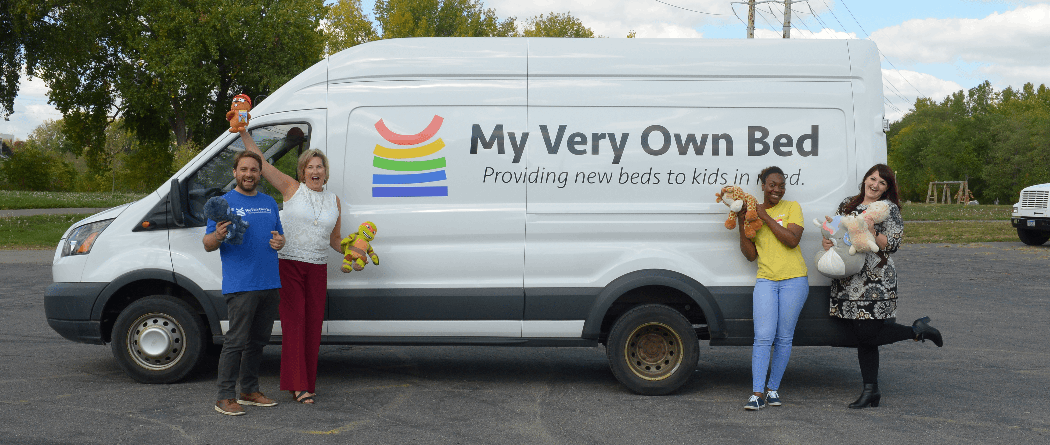 Outstanding Community Commitment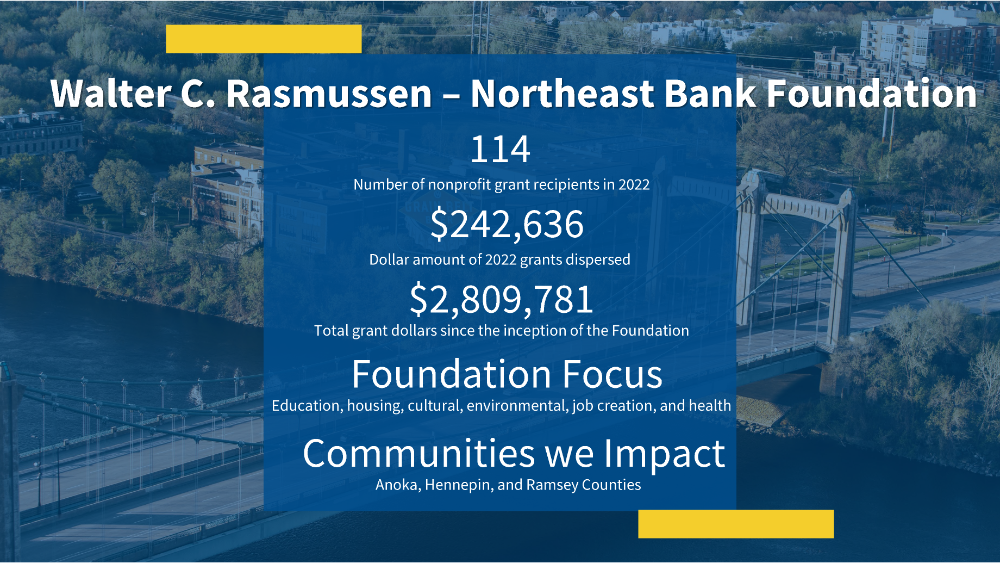 A commitment to the community has been at the heart of Northeast Bank since 1947. We believe that meeting the credit needs of the communities in which we do business is good business practice and essential to the Bank's long-term vitality. 
On an ongoing basis, Federal Regulators review banks for their compliance with the Community Reinvestment Act (CRA). This review takes a look at lending practices, products, and services offered, in addition to the overall commitment to meeting the needs of the local community. Northeast Bank has received the highest rating of "Outstanding" over the past eight exam periods (2020, 2017, 2014, 2012, 2009, 2006, 2003, and 1997) from the Federal Deposit Insurance Corporation (FDIC).
Northeast Bank has offices in Minneapolis, New Brighton, and Coon Rapids and defines its local community as all of Hennepin, Anoka, and Ramsey County.
Members of the Board of Directors and Officers of the Bank are affiliated with the following organizations:
AccessAbility
American Bankers Association
American Craft Council
Anoka Area Chamber of Commerce
Anoka County 4-H
Anoka County Community Action
Anoka Hennepin Technical College Foundation
Anoka Ramsey Community College Foundation
Bayan Community
BestPrep
Blaine Community Scholarship Program
Camilia Rose Foundation
Cars for Neighbors Program
Catholic Eldercare
Central Minnesota Development Corporation (CMDC)
City of Coon Rapids – Business Retention and Expansion Leadership Committee (BRE)
City of Lakes Community Land Trust
Clare Housing
Columbia Academy
Columbia Heights Business Council
Columbia Heights Independent School District #13
Columbia Heights Public Library
Community Emergency Assistance Program (CEAP)
Community Involvement Program
Community Partners for Youth
Community Support Center of New Brighton (CSC)
Connecting Women in Business
Connexus Energy
Coon Rapids Business Council
Coon Rapids Community Scholarship Program
Coon Rapids Rotary
Crest View Foundation
Cub Scouts
D.A.R.E. Inc
DeLaSalle High School
East Minneapolis Exchange Club
East Side Meals on Wheels
East Side Neighborhood Services, Inc.
Edison Highschool
Emma B. Howe YMCA
Epiphany Parish and School
Family Pathways
Falcon Heights City Council and Planning Commission
Feed My Starving Children
Friends of the Ramsey County Libraries
Friends of the Mississippi
Graduate School of Banking - Colorado
Greater Metropolitan Housing Corporation
Greater Minneapolis Chamber of Commerce
Greater Twin Cities United Way
Habitat for Humanity
Hamline University
Harold Mezile North Community Youth and Teen Enrichment Center (North Community YMCA)
Hennepin County Resources Board
Highlands Elementary School
HIRED - HR Advisory Board
Hmong College Prep Academy
Holy Cross Church
Hospitality House Youth Development
Junior Achievement
Knights of Columbus Fundraising
Mercy and Unity Hospitals Foundation
Metro North Chamber of Commerce
Metropolitan Consortium of Community Developers (MCCD)
Metropolitan Economic Development Association
Minnesota Bankers Association
Minnesota Brain Injury Alliance
Minnesota Business Finance Corporation (MBFC)
Minnesota Business Venture
Minnesota Continuing Legal Education
Minnesota Department of Human Rights
Minnesota Medical Foundation
Minnesota Off-Road Cyclists
Minnesota Organization for Habilitation and Rehabilitation
Minnesota Pilot Program — Minnesota Battered Women
Minnesota Stroke Association
Minnesota Youth Athletic Services
MNCREW (Minnesota Commercial Real Estate Women)
Mounds View Business Council
Mounds View Economic Development Commission
Mounds View Education Foundation
Mount Carmel Lutheran Church
My Very Own Bed
National Association of Women Business Owners (NAWBO)
Neighborhood HealthSource
North Community YMCA
North Hennepin Area Chamber of Commerce
North Hennepin Community College Foundation (NHCC)
North Metro Human Resources Board
Northeast Business Association
Northeast Community Development Corporation (NECDC)
Northeast Economic Development Corporation
Northeast Minneapolis Arts Association
Northeast Minneapolis Chamber of Commerce
Northeast Minneapolis Kiwanis
Northeast Youth & Family Services
Northern Star Council — Three Rivers District
Northside Achievement Zone
Prince of Peace Lutheran Church of Brooklyn Park
Prodeo Academy
Propel Nonprofits
Ramsey Rotary
Rasmussen Center for Cardiovascular Disease Prevention
RISE, Inc.
Roseville Rotary
Salvation Army
Santa Cop 

– New Brighton Public Safety

School District 623
SCORE
ServeMinnesota
Sheridan Story
Shop with a Cop 

– Columbia Heights Police Department

Sojourner Truth Academy
Southern Anoka County Assistance (SACA)
Helena Church & School
The Camden Promise
The Cookie Cart
The Dwelling Place
TPC Rose
TSE, Inc.
Twin Cities North Chamber of Commerce
Urban Homeworks
University of Minnesota Center Cleft Palate Clinics
University of Minnesota Heart Campaign Advisory Committee
Volunteers of America - Minnesota
Waite Park Elementary School
Walter C. Rasmussen—Northeast Bank Foundation
Wishes & More
WomenVenture
Officers also maintain a continuing liaison with the Housing and Redevelopment Authorities of the cities of Minneapolis, Columbia Heights, Fridley, Blaine, and Coon Rapids.
Award Winning Community Service
Northeast Bank is honored to have received multiple awards and recognition for community service and our philanthropy. Here are a few recent awards we are proud to have received:
2022 Top Workplaces by the Star Tribune
2022 Community Champion Recognition by the Minnesota Bankers Association
2022 Community Partnership Award from The Lee Carlson Center for Mental Health & Well-Being
2021 Top 175 Places to Work by the Star Tribune
2021 Top 200 Community Banks & Thrifts – American Banker
2020 Minnesota Bankers Association Community Champion Recognition
2020 Top 150 Places to Work by the Star Tribune
2020 Best Bank for Business Finalist by the Twin Cities Business Journal
2018-2021 Best Bank Reader's Choice Award by Sun Media
2019 Star Tribune Top 150 Places to Work
2019 Minnesota Bankers Association Community Champion Recognition - The MBA recognized Northeast Bank for contributions, service, and support of our local community.
2018 Star Tribune Top 150 Places to Work
2018 Rising Star in Banking awarded to Mike Scholl of Northeast Bank
2018 Top Women in Finance awarded to Andrea Murphy of Northeast Bank
2017 American Bankers Association Honorable Mention for Protecting Older Americans
2017 Minnesota Business Best in Class: Midsize Company Award - Recognized for overall excellence for positive impact on Minnesota communities by a midsize company (51-250 employees).
2016 Minnesota Keystone Honored Company Award - Recognizes companies that donate at least 2 percent of their pre-tax earnings to the community
2016 Twin Cities North Chamber Community Advocate Award 
2015 Northeast Minneapolis Chamber of Commerce Large Business of the Year -This award honors companies that take an active role in the community and create a positive working environment for their employees. 
Credit Offered by Northeast Bank
All loans are offered in a manner that is consistent with safe and sound banking practices. The Bank does not discriminate against credit applications on the basis of race, color, religion, national origin, disability, sex, marital status, sexual orientation, familial status (having children under the age of 18), age (provided the applicant has the capacity to enter into a binding contract), or because all or part of the applicant's income is derived from public assistance programs or because the applicant resides in, or is affiliated with, what is considered to be a low or moderate-income area.
Here are a few examples of our community development lending:
Loans made to non-profits and other social service agencies
Tax-exempt bond financing
Partnering with local municipalities for down payment or capital assistance
The Minneapolis Community Planning and Economic Development Agency (CPED) partners with Northeast Bank to provide financing for:

Buildings
Land
Production Equipment
Renovation
Working Capital 
Learn more about our business and nonprofit loans and credit offerings.
National Jefferson Award Winner
In 2013, Northeast Bank was honored to receive a National Jefferson Award for our community service. The American Institute of Public Service established the Jefferson Awards as the American Noble Prize for community and public service. We received this award for the significant contribution that our staff of only 83 full-time equivalents and our officers and directors made to the community. In 2011, board members, officers, and employees logged almost 4,000 volunteer hours as members of organizations, supporters of community projects, and volunteers at events. In addition, the Bank's board members and officers are affiliated with more than 60 local, nonprofit organizations. 
Rasmussen Center for Cardiovascular Disease
In 1994, the Walter C. Rasmussen Foundation partnered with the University of Minnesota to create the Rasmussen Center for Cardiovascular Disease. This partnership was founded on the passion of people wanting to prevent and control cardiovascular disease. Belva Rasmussen, Walter's wife, along with Dr. Jay Cohn, MD – Cardiologist, and director of the Rasmussen Center, a division of the University of Minnesota Medical School, painstakingly worked together to ensure that the Rasmussen Center for Cardiovascular Disease became a reality. In 1991, this disease took the life of Walter Rasmussen, founder of Northeast Bank. Today, Dr. Jay Cohn continues to head this division 22 years later.
The Rasmussen Center for Cardiovascular Disease is unique – taking prevention a step beyond risk evaluation to look for early markers of cardiovascular disease. The program takes a comprehensive approach where all aspects of prevention are considered. It helps patients learn how to prevent a cardiovascular event such as heart attack, stroke or peripheral vascular disease.