Documents & Statements


Documents
Documents provides up to seven years of "plain" statement history.

1. Click on the Documents button on the Dashboard or select an account and then click on the Documents option in the Account sub-menu. (Note: these options both currently go to eStatements.)


2.
Click the filter icon, then select the Accounts for which you wish to view statements.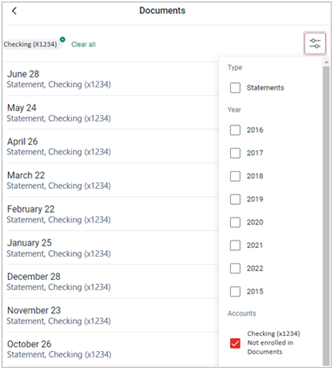 3. Click the download icon to download, view, and save a statement.
---
Statements (eStatements)
After 8/14/2023, when you select any account, there will be a new Statements option that will take you to your eStatements electronic statements and notices. Statements will provide eighteen (18) months of eStatements electronic statements, as well as related electronic notices, optional email notifications, and the ability to add additional email recipients.
Select Statements from the Account sub-menu to access eStatements.
In the Accounts section of the dashboard, or from the Accounts screen, select an account. Select Statements.
Confirm the email address to enroll, review the disclosure, and click I Agree.



Note: by default the system enrolls All available documents for all active accounts.

If you would only like to enroll certain accounts and/or documents, click

Details  and select what you want to enroll.

An enrollment confirmation will be displayed, click OK.



If you are enrolled in eStatements, your most recent statements will be available under the Statements and Notices submenu.
Under Statements and Notices you can View or Download recent account documents.

To filter the documents displayed use the filtering fields at the top of the page. Using these fields you can select multiple Accounts at one time, choose one or more Document Types, and select a Date Range to view all documents meeting your criteria on one screen vs viewing them on an account-by-account basis.




Click the Download icon to download, view, and save the documents you want.
To add or adjust your enrolled accounts for Statements available online:
Under 

Documents and Settings

, place a check mark next to 

Enroll Accounts

, and 

Document Types

 that you want to access electronically. Click

Save settings

.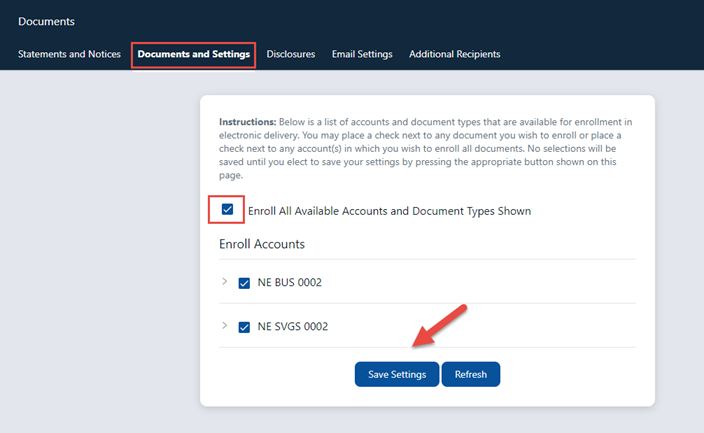 You can add additional recipients to receive an email with a secure Statement login.
Under Additional Recipients, click Add Additional Recipients.




Input a unique Username, Email Address, and Access PIN and click Save. The recipient will use their Username and Access PIN each month to open the Statement. This will not give them any additional access to the account(s).



The Statement recipient will be shown under Additional Recipients. Click Assign Documents to select the accounts statements that the recipient will be able to access.




Place a check mark next to each account you would like to send to your recipient. Click Save Settings

. Agree to the disclosures by clicking 

I Agree.