Transfers
Make transfers between your Northeast Bank consumer accounts or an external account at another financial institution.
Make a Transfer Between Northeast Bank Consumer Accounts
Select Transfers from the main menu, or Transfer on your Dashboard.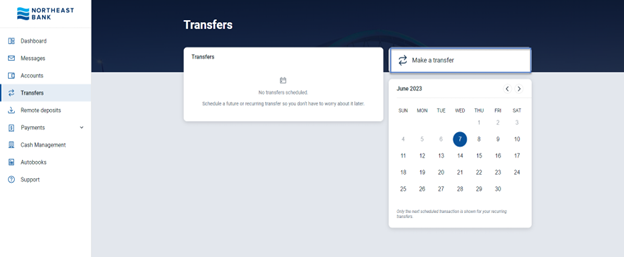 Select Make a transfer and enter the transfer details. Select More options to make the transfer recurring, schedule the transfer in advance or add a memo.



Carefully review the information, and if correct, Submit the transfer.

To delete a scheduled internal or external transfer, click on Transfers, then select the transfer you would like to delete.

Note: Only scheduled transfers that are future dated can be deleted. Transfers scheduled as Soonest available, once submitted, cannot be cancelled, or deleted.




Click on the trash can icon in the upper right corner.




Confirm that you would like the delete the transfer by clicking Delete.




You will receive a confirmation that your transfer has been deleted.



Setting up External Account Transfers (For Consumer Use Only)
To set up an external account for transfers, you must be an authorized signer on the external account.
To add an external account, go to Transfers. Select + External account.




Complete the account information for the account at your other financial institution. Select Submit.



NOTE: A message will appear saying that two small deposits have been sent to the account and will arrive in 1-3 days.


Check your external account over the next few days until you see the two small deposits. Once you see the deposits, log back into your Northeast Bank online account and click on Transfers

, and then 

External account. Select the external account.




Input the two small deposit amounts and click on Confirm

.